About 3 NZ shekels

I may have some old florins around here, but no shekels

I have some spare skeins of wool though
With the amount of spinning wheels and looms in my house my wife would love me to say yes to wool, but we are in different wave lengths there

Any plans or just some info about where to get one in Italy/Europe?
Thanks
Marco
@dpcons currently the only way is via email or DM…
Finally I've got mail from Justin! And must say: Justin you are genius! Love the board and hope to buy more of these, do you plan to make your e-shop running again?

For starters I would like to run newest TinyCLR, does anyone have port download?
Thanks,
Jan


Jeepers, they must have been rationing the bird seed for the pigeons if it has just arrived!
Yes the store will make an appearance some time soonish…
You can download 0.6.0 firmware from the page in the qr code…
Yea, you just need to flash the firmware with the ST tool. Hold down the button when you plug the power in.
How many years have you been promising a store?

I'll believe it when I see it.
today i've got mail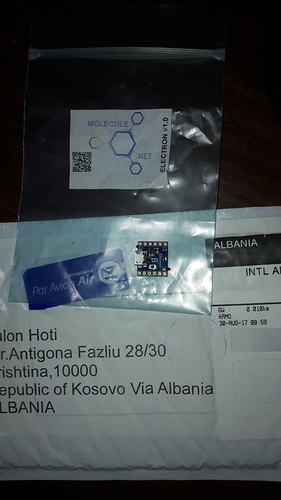 SUPER ELECTRON
but in pictures who someone early posted it showed bigger than that i received


(or Justin maked yet smaller)
i like this because it remember me to tiny85
*but this one was extreme powerfully small device
Nice, board flashed and is running TinyOS 0.6.0, again it's awesome little board!

Thanks and looking forward to see your shop where I can order more of the stuff!!
It's almost the size of a usb type A connector.
EDIT: LOL
Yikes, this little thing can get to Romania faster than Canada!! I'll be patient…
Well Justin said it was fast!

100MHz STM32F411CEU6
512kb Flash
128kb Ram
I still havent seen one in my mailbox

Well, I think our Canadian bound board ended up in a snow drift somewhere… No worries Justin I will partake when the opportunity arises… Just spent 2 weeks in the south and north island last spring, perhaps we should just come on down and pick one up!!
John
NZ Post have lost both packages that i sent to Canada!!!
I have opened support tickets for both packages and NZ Post have sent you both letters to confirm details.
But all is not lost ( hahaha ) v1.1 panels have been sent to manufacture and a couple from the first panel will be resent to you both.
And if they dont arrive you are most welcome to visit

Man that is a tiny little thing!
When is the Universal Compute Module version coming out??

I have had delusions of grandeur and throwing on 4 uC's and making a Quad core UCM