Hi
I did some tests with TinyClr 0.6 a few weeks (months ?) ago and finally decided to go further and start with it.
I received my FEZ last week and I could upload the latest TinyClr version withoout any issue.
Before to start doing some programming, I want to upgrade some of the boards I have
I did start with
the UC5550 Wifi with 1°) UCM Dev Board -
According to the instruction, To activate bootloader v2, hold the LDR0 signal low (press BOOT B on UCM Dev and Breakout boards) while resetting the board. but there is no BOOT B button, only SYS A, B , C and D
So I did assume that try with reset and SYS B.
If i connect the bord, I see a Universal serial Bus Device UC5550 in the device manager
If I follow the procedure (using boot and SYS B) I get a COM 3
But none of those mode makes the board appeara as an DFU device in the DfuSe Demo (v 3.0.6)
Any hints on that ?
2°) I try to upload the bootloader on a FEZ Raptor (Rev 1.0)
To activate bootloader v2, press and hold the LDR0 button while resetting the board
The board appears as COM5 in device manager
If I start SAMBA (2.18), and I select COM5 and at91sam9x35-ek for G400, I got Invalid Chip ID
or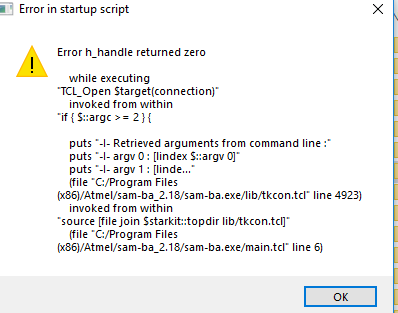 I did reboot in between and tried on my surface but no luck.
Any help will be appreciated
Philippe