Hi,
I am currently migrating from a G120 board to SC20260N board with the production release v2.0.0.8000. So far so good until now. The CAN communication does not work unfortunately. As soon as the code tries to send a CAN message, it immediately throws an exception error "CLR_E_TIMEOUT" as if nothing is on the other side.
I am hoping someone can point me in the right direction or has more in depth knoweldge of CAN bus communication with different CAN tranceivers.
In short, in an attempt to be able to switch between communication protocols through software, we tried to apply a RS485 tranceiver and a CAN bus tranceiver switched by driving pads of the SC20260 high or low. We choose a TJF1051/3 from NXP as the CAN tranceiver for its silent mode and VIO capability. The hardware designers are now double checking the circuit, but I just wanted to check with this forum if this idea is viable.
I have tried the exact same CAN example code on the development board and it works, however this uses the more conventional SN65HVD230D tranceiver. Does someone know if the NXP TJF1051/3 is not supported and this is a bad idea, or could it work with an another approach?
Any help would be greatly appreciated. Thanks in advance.
Remco
I have a screenprint of the circuit: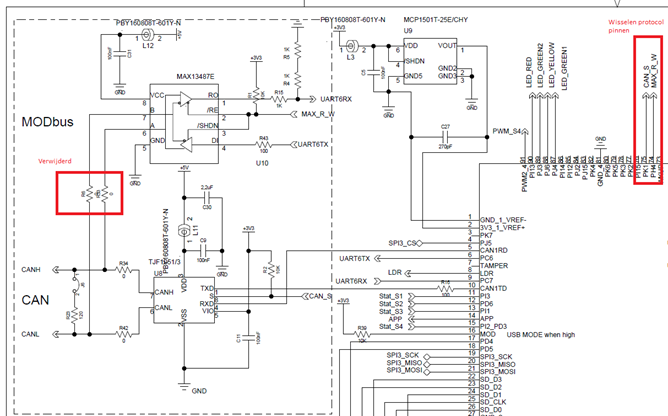 I have removed the resistors to be sure to isolate the RS485 chip.