Hi all.
First of all I'd like to tell some words about how it began.
Also I want to apologize for my English as I'm a native Russian speaking person. And also I'd like to apologize before people participated in previous discussions if I caused offence to anybody.
I'm developing my own project which is to be taken into production in the future. This project concerns the remote control of groups of robots. Besides controlling from cell phones (Android and Windows Phone) it will be possible to control them from central unit with touch screen display. The central unit was decided to be a Cobra with 7" display. So I stumbled upon the need to get some graphics library to use in development. The choice wasn't wide though: Glide, Gadgetos, .Net Clix, some other libs, and developing own library. So I began trying and testing these products. To save my time on development the GUI library I was even ready to buy the Glide with the license for commercial use for 1000$ that was its price not much time ago.
Test results became far enough from satisfying for me. So I started a few threads in "Glide — Graphical library for NETMF" branch of the forum. You can see them here:
[url]http://www.tinyclr.com/forum/22/5051/[/url]
[url]http://www.tinyclr.com/forum/22/5053/[/url]
[url]http://www.tinyclr.com/forum/22/5188/[/url]
Also I took my own GUI library written for MS XNA games some years ago and tried to adapt a part of it to netmf. I posted some results of it on youtube: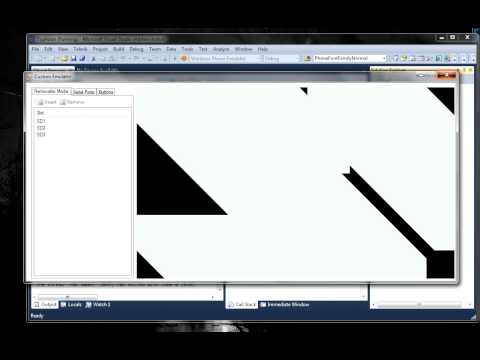 So, based on these results, I decided to try to develop my own graphics library. In this thread I'd like to post the results of this process and would appreciate any comments and judgements. I invite everyone interested to participate.
Also the only time I have for this lib development is my nights so I'll move on at my own pace.
I don't know right now what will be the result of this work but I think I could give it a try.