Hello @Brett,
Like described, I ordered some other LEDs that are for 12v applications. Funny thing, they are less expensive, already wired, and come in a 30 pack. Besides that idea, I have some better photos and a video to share.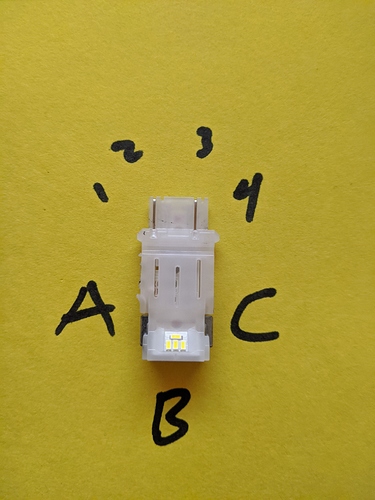 A (-) to B (+) in an ohm test = 0.00 to 0.04
A (-) to C (+) in an ohm test = the same
The rest of the ohm tests are the same or a little off, i.e. about 0.01 to 0.02 off.
…
Now…the continuity test was odd. AB, AC, and etc were all showing continuity b/c I heard the beeping from my DMM. Also, the value of the continuity test kept changing value in feedback.
My diode test is the test I recorded in video to show exactly what this LED gives as feedback when applying the DMM to it. Note, The AB and BA was tested on video for reference.
If this helps you to understand that this is a very odd LED for multi-purpose use, I agree.
Seth
P.S. If you have any ideas, please do not hesitate to ask or give direction. Oh and the listed 1 - 4 numerical values on top provide no feedback at all. I forgot the side view photo. Here: