I have a large amount of code that has been running scientific instruments for the last 10+ years. Now a critical component is no longer available so I must mod the code. This was written in NETMF 4.3.1, and contained modules in both C# and VB.
I have been struggling trying to use my programming environment that has seen several VS versions upto 2022 installed since editing this older code. Currently, when I try to build any of the older code on VS2013, for example, I get this error:
Error 1 compiler initialization failed unexpectedly: Project already has a reference to assembly mscorlib. A second reference to 'C:\Program Files (x86)\Microsoft .NET Micro Framework\v4.3\Assemblies\le\mscorlib.dll' cannot be added. D:\Projects\Software Development\NET.MF\Current\NET Library\CommonMicro\vbc CommonMicro.
This happens on all the VB modules in the solution, but not the C#.
After spending many hours chasing broken links regarding NETMF, and checking the fixes that I did find, I figured that it would be better to start fresh on a new virtual PC.
I followed the GHI documentation to install VS2013, and all the additional NETMF and Gadgeteer modules in a Win10 Hyper-V instance. To see if this had been correct, I built a Gadgeteer app with a Raptor, display, and USB. It has no code other than the startup "Program started" print.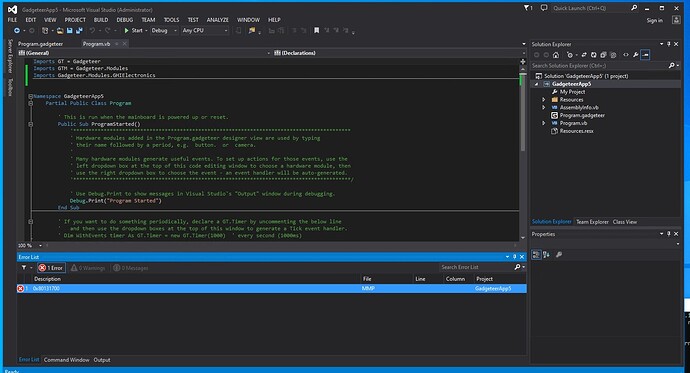 If you look at the error list, it says Error 1 0x80131700 c:\users\rocky\onedrive - inc\documents\visual studio 2013\Projects\GadgeteerApp5\GadgeteerApp5\MMP GadgeteerApp5
If I create the same program in C#, same result. I have also updated the virtual HyperV image to see if that would fix the error as one site suggested. No luck.
Any help would be greatly appreciated. strong text
Thanks,
Rocky