More beginner stuff here… I am trying to use the car wash example code on the portal to use for an interface for my well and water storage tank project. I'm modifying the UI interface code to display one main screen (for now), and I will add secondary screens to provide additional information about my deep wells and tanks for our house. Using 4-20ma sensors and digital in's and out's for the monitoring. I have successfully patched in networking through the Wi-Fi using the example coding, and have configured the RTC to update using internet time.
I am now trying to set up a timer to update the screen(s) every say 2-10 seconds to update the time and sensor status. Going to the UI tutorial, I have inserted the dispatcher code that is on there, but I don't know how to modify that code to update the screen… I have never used the UI stuff before, nor have I used the WPF in general, so I'm a bit clueless about how the UI code works.
The screen so far: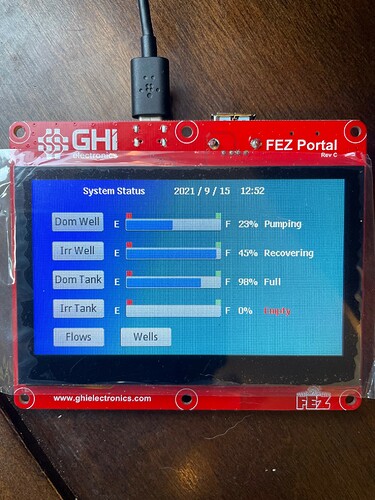 If someone can help with where and how I need to insert the UI dispatcher code into the car wash project at least to update the main screen every 10 seconds or so that would get me going, Thanks!!!
Dispatcher code:
static void Counter(object o)
{
Application.Current.Dispatcher.Invoke(TimeSpan.FromMilliseconds(1), _ => {
Text txt = (Text)o;
txt.TextContent = DateTime.Now.ToString();
txt.Invalidate();
return null;
}, null);
}
    private static UIElement Elements()
    {

        var txt = new GHIElectronics.TinyCLR.UI.Controls.Text(Resources.GetFont(Resources.FontResources.NinaB), "Hello World!")
        {
            ForeColor = Colors.White,
            VerticalAlignment = VerticalAlignment.Center,
            HorizontalAlignment = HorizontalAlignment.Center,
        };

        Timer timer = new Timer(Counter, txt, 2000, 1000);
        return txt;
    }

John