In the progress of testing the input events I found that it is easy to generate an uneven count of rising or falling events.
My assumption is following: for every rising event there would have been a falling event before it and for every falling event there would have been a rising event before it.
Is my assumption wrong? because it easy to generate uneven count of rising / falling events when manual shorting the input to ground.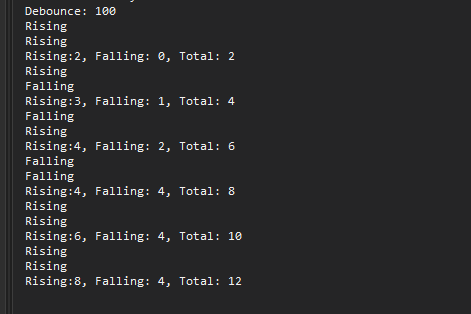 var gpio = GpioController.GetDefault();
     var button = gpio.OpenPin(SC20260.GpioPin.PJ2);
        
     button.DebounceTimeout = new TimeSpan(0, 0, 0, 0, 100);
     Debug.WriteLine($"Debounce: {button.DebounceTimeout.TotalMilliseconds}");
     button.SetDriveMode(GpioPinDriveMode.InputPullUp);
     button.ValueChangedEdge = GpioPinEdge.FallingEdge | GpioPinEdge.RisingEdge;
     button.ValueChanged += Button_ValueChanged;

    static int total = 0;
    static int rising = 0;
    static int falling = 0;


    static void Button_ValueChanged(GpioPin sender, GpioPinValueChangedEventArgs e)
    {
           
        if (e.Edge == GpioPinEdge.FallingEdge)
        {
            Debug.WriteLine("Falling");
            falling++;
        }
        if(e.Edge == GpioPinEdge.RisingEdge)
        {
            Debug.WriteLine("Rising");
            rising++;
        }

        total++;
        if(total % 2 == 0)
            Debug.WriteLine($"Rising:{rising}, Falling: {falling}, Total: {total}");
    }