Hello all,
I received FEZ Feather and it looks nice. However, at this moment, I cannot do anything with it…
I tried several USB cables and different USB ports, but it is still identified as "Other device / SC20100" or when I turn it on with "LDR" button pressed it is then "Other device / GHI Bootloader Interface". I have Win 7 64 bit.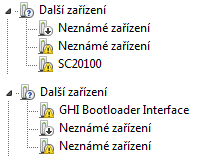 I tried "TiyCLR Config" software and it looks like it needs Feather to be defined in device manager as COM port. But it is not in my case.
I also tried VS 2019, however in "Project properties / TinyCLR OS" in "Deployment" I have "USB" selected, but in Device, there is just "".
Are there some kind of drivers that I need to install and I just missed them?
I am looking for any tips. I enjoyed my days fooling around Panda II back in the past, so I wanted to tried something new.
M.K.