I had a shot at using GHI products several years ago but never really got anywhere with it. Heard about the latest incarnation of GHI boards (I'm still on their mailing list) and thought I'd have another look.
The first thing I did was fire up VS Code (I'm on Linux Mint 19.3 BTW) to add the TinyCLR extenstion. Except it didn't appear on the list.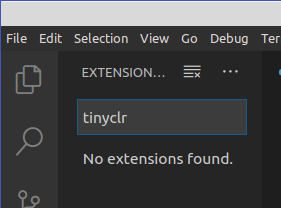 Do I have to install something, or do something to get it to appear? Or does it just not work on Linux?
Thanks.