Hi,
I published on Codeplex a stable version of my ".NET/Mono/NETMF Monitor and Command midleware for embedded projects" solution, written with C# and the stated frameworks.
https://monitorandcommand.codeplex.com
The solution produces .dll that you can reference in your .NET/Mono/NetMF (and WindowsPhone) projects to add client/server messaging capabilities allowing to monitor and control the processes using them. I designed it primarily with embedded .NET/Mono projects in mind.
Videos on YouTube demonstrate the use of those .dll to provide monitoring and commanding between :
a Netduino referencing the NETMF client to sending temperature data from a DS18B20 sensor.
a Raspberry Pi using the .NET/Mono client library with Mono to send the states of the Pibrella board's LEDs;
a Windows Phone using the WP client to start/stop the blinking of the LEDs;
a WPF Monitor application using the .NET client library to display data received from the above;
all communicating through a console "server application" using the .NET/Mono server library running on a Raspberry Pi 2. Other videos hosted on the same account demonstrate other configurations.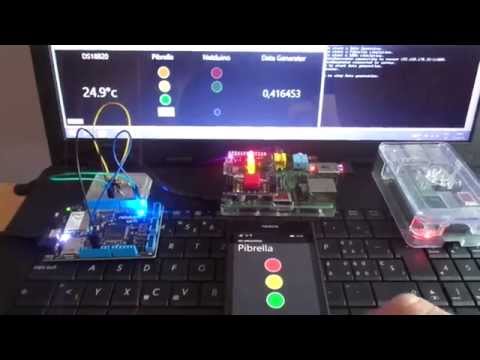 The solution, explained and documented on the Codeplex pages, is available for download under the BSD licence.
Paul