Ive a simple test project with a button like this: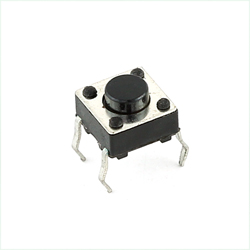 I want to fire an interrupt event every time I push the button.
Button is connected to +5V and (at the other side) to 10K ohm resistor to GND. Pin n° 6 of my extender is connected with gnd-resistor side.
I implemented this code:
 _btnMotorSwitch = extender.SetupInterruptInput(GT.Socket.Pin.Six,
                GT.Interfaces.GlitchFilterMode.Off,
                GT.Interfaces.ResistorMode.Disabled,
                GT.Interfaces.InterruptMode.RisingEdge);

If I start my application and press the button the event is fired twice!
Can someone explain me why?