I have a custom board using the G120 that works fine on the .NETMF and wanted to play with the latest release of TinyCLR OS 0.10. I have both the USB host and USB client on the board, that works fine in NETMF. I loaded bootloader v2 using TeraTerm per docs no problem loading it. Once I load the bootloader v2, then I connect using TinyCLR to update/load the Firmware, which works fine as you can see on the pic. Once reset, I am not able to see the board in TinyCLR config under USB to proceed to program it. More over, once I load the firmware (G120 Firmware v0.10.0.glb), I have some LEDs on the board, in 3-5 seconds all goes dim, as if "lights off" situation. Not sure what to make of it. If I boot using the LDR0 + reset, I get COM3, and I can use TinyCLR config tool to connect to it, as you can see on the image. I can then update firmware, or run, or Erase it.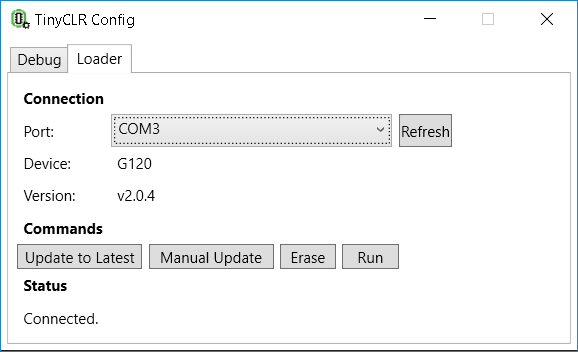 I did the same process with my Cobra III, and was able to see it under USB as G120_G120, but not my board.
Question: Do I need to customize the G120 build to my board or maybe I am wrong?
Any advice to get me in the right direction?
Thanks.