Asside from the "Beginners Guide to C# and the .NET Micro Framework", which covers:
6.2. Digital Inputs
6.3. Interrupt Port
6.4. Tristate Port
I'm still a bit lost about how I would go about soldering a button onto this board… sure I could tear up the LDR pins and solder a wire to them, but I know this is wrong.
I would like to know more about:
which pins on the side of board should I use, don't I need to use a GND (ground) for a button…? Ihat if I have two buttons, can I solder two wires to the GND pin (one for each button)? I'm an intermediate programmer, but I'm a novice at: .NETMF, C#, .NET, embedded devices, VS C# Express, and soldering… I would really appreciate some advice or maybe a tutorial…
I imagine it happening like this:
I take my buttons
called: "Normally Open Off - (On)" if that makes any difference… I suspect it will when it comes time to set up the Interrupt Ports
and solder them onto the pins on the side of the board like so: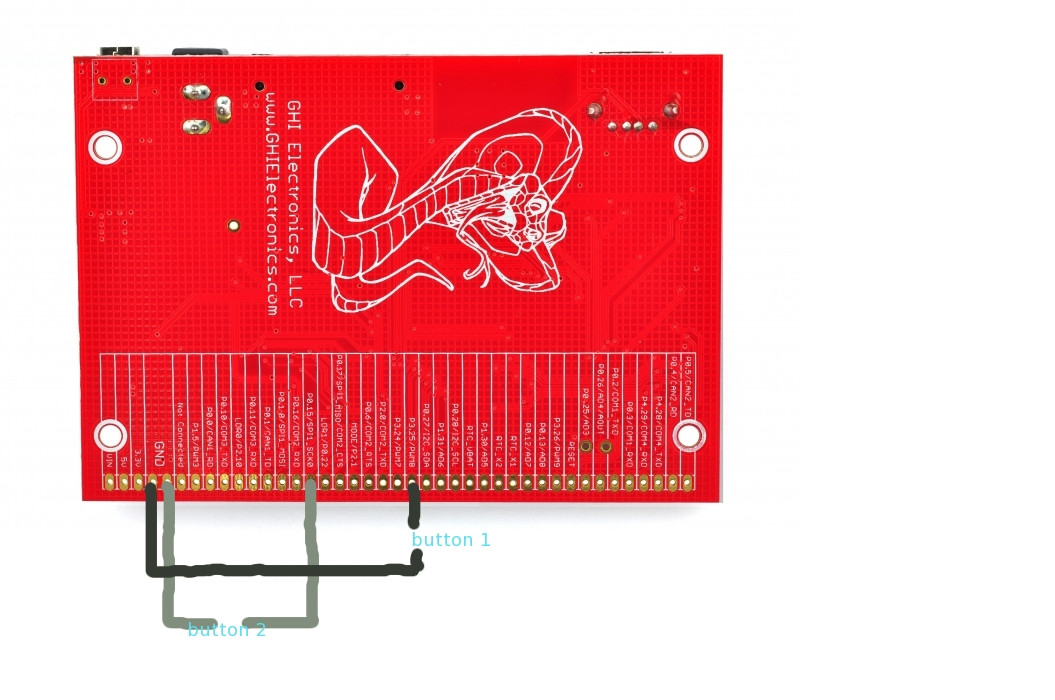 but, that doesn't make sense… actually, I don't think I need to use a ground… it should maybe look like:
Output Port 1 [pick a pin] ===> button 1===> Input Port 1 [maybe interrupt port?]
Output Port 2 [pick a pin] ===> button 2===> Input Port 2 [maybe interrupt port?]
Maybe someone can point me in the right direction?